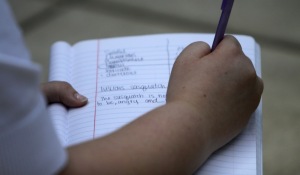 To me, writing is a light, at the end of the lonely black cave, a window worth living for; pure opportunity. And to write, you need encouragement, something that shows you're not alone with this feeling, this picture painted in your mind. You need a way to get advice, help, something that boosts you forward, and keeps you from frustration.  I have been given all of these necessities to writing, all in four plain, simple words. Red, Oak, Young, Writers. It has ignited and kept that light at the end of the tunnel burning. Now it can never burn out…

~Recipient of assistance from the Financial Aid Fund

Red Oak maintains a Financial Aid Fund* to subsidize part of Creative Writing Camp tuition for families who would otherwise be unable to send their young writers to camp.
Donations of all amounts are deeply appreciated and can make a big difference in a young person's life.
*Because of our status as an llc, donations are NOT tax-deductible.