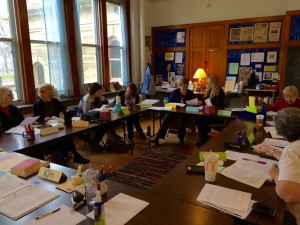 WRITERS' ROUNDTABLES
with Kim Suhr and Robert Vaughan

$105 per session ($200 for 2 sessions)
(4 meetings in a session)
The roundtables are critique groups designed to support you as you work on projects and continue developing the craft. Our experienced leaders are published writers who are also actively pursuing their own writing goals. They are committed to helping you reach your writing dreams — big project or small — fiction, nonfiction, plays or poetry.
Red Oak roundtable groups are appropriate for dedicated writers willing to share their work with a group to receive feedback, share ideas and build a network of writing friends.
Click HERE for a current schedule.