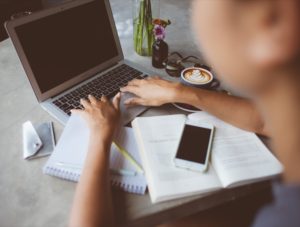 How is the Online Roundtable (OR) similar to the in-person Roundtables?
Facilitated by an experienced leader who keeps the focus on your writing goals.
Participants are committed writers who have experience giving and receiving feedback.
Writers "meet" and have "real time" dialogue (once every 3 weeks using video chat).
How is the OR different from the in-person Roundtables?
Writers do not read their work aloud.
Participants submit and give feedback on each other's work ahead of the meeting time (using Googledocs).
Whenever possible, the facilitator provides discussion questions ahead of time, so participants can focus their thoughts. (Nice for people who need a little extra processing time.)
Real-time "meetings" are shorter than in-person Roundtables (to balance time spend commenting outside of our conversation).
Group size is limited to 6 participants.
The series covers 6 sessions meeting on a 3-week rotation.
Does the group lack the intimacy of the face-to-face groups? 
While there is definitely something special about being in the same physical space together, those who have participated in the OR say they're surprised at how close the group feels to "real life." Read some testimonials.
What if I'm not very tech savvy?
If you can maneuver gmail, you can probably figure out the video chat Google Hangout and Googledocs. I'm happy to work with you over the phone to get things set up and practice if necessary. From time to time, we will have glitches, but we'll just roll with it and figure out things together. I think you'll find Googledocs, in particular, a great tool for sharing your work and giving feedback.
How do I sign up?
Visit the information page.