with Kim Suhr
Like training for a long-distance bike ride or practicing yoga, the more you write, the better and more focused your writing becomes. In this workshop, Red Oak Writing director, Kim Suhr, guides participants through writing prompts and activities to make the most of their current skills and helps them grow in confidence and technique. For beginners and those who appreciate the jumpstart writing exercises provide.
(Note: This is not a writing critique group and participants are not expected to share their writing with the group.)
9 – 11 am
at Lake Country Unitarian Universalist Church
Sept/Oct Series: 9/19; 10/3, 17 & 31
Nov/Dec Series: 11/7 & 21; 12/5 & 19
$50 for each 4-session series
or $15/session (please prepay and indicate dates in an email to Kim) with registration
To register, complete form & send check to Red Oak Writing, PO Box 342, Genesee Depot, WI 53127
kim@redoakwriting or 414-881-7276 for info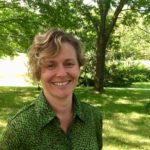 Kim Suhr is the author of Maybe I'll Learn: Snapshots of a Novice Mom and director of Red Oak Writing. Her work has appeared in many journals, most recently at Literally Stories, Midwest Review, The Other Stories podcast and Solstice Lit. In addition, her writing has earned awards from the Wisconsin Writers' Association's Jade Ring and Lindemann Humor Contests. You can listen to Kim read her work at WUWM 89.7 on the Lake Effect Program. She holds an MFA from the Solstice program at Pine Manor College where she was the Dennis Lehane Fellow in Fiction. To learn more about her writing, visit kimsuhr.com.