Now, get the helpful feedback and collegial support of our Roundtables without leaving your house!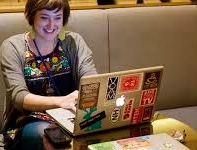 Using a method inspired by our face-to-face Roundtables, you will give and receive written (typed) feedback as well as participate in six 1.5 hr real-time conversations with your group mates.
Jan-May 2017 Session
Deadlines for Uploading Work  
(12 pm CST on the following Wednesdays)
Jan 18, Feb 8, Mar 1 & 22, Apr 12, May 3
Real-Time Online Hangouts
(7-8:30 CST on the following Wednesdays)
Jan 25, Feb 15, Mar 8 & 29, Apr 19, May 10
Register Using Pay Pal
OR
Register by Mail
Some logistics:
4-6 writers for each 6-meeting session (small group means deeper, more focused comments)
Meet in a real-time Google Hangout every third week
One week prior to each Hangout, participants share a Googledoc of their work (2,500 words max) so others can post comments 

before

 we "meet" in the Hangout
Allot approximately 15-20 minutes to commenting on

each

piece prior to our Hangout time.
Attendance at the real-time Hangouts is mandatory (with dispensation for one absence per session if absolutely necessary). It is important for written/verbal feedback to be even and equitable. No fair taking written feedback and not providing conversation on others' pieces.
The verbal portion/real-time Hangout will be topic driven. (I will suggest aspects of craft for deeper exploration.)  When we have finished discussing the piece, the writer will have a few minutes to ask follow-up questions or make a comment.
*Prerequisite: Previous participation in our face-to-face Roundtables OR the equivalent. (If you have never been in a Roundtable, please contact Kim Suhr 414.881.7276 or kim@redoakwriting.com to discuss your experience with giving and receiving critique.)
Technology Requirements:
Gmail account and familiarity with Googledocs and Google Hangouts
Highspeed internet connection
Webcam and mic
What Participants Say About Online Roundtables
About the Facilitator: Kim Suhr is the author of Maybe I'll Learn: Snapshots of a Novice Mom and director of Red Oak Writing. Her work has appeared at Grey Sparrow Journal, Full of Crow and Foundling Review as well as earning awards from the Wisconsin Writers' Association's Jade Ring and Lindemann Humor Contests. You can listen to Kim read her work at WUWM 89.7 on the Lake Effect Program. She holds an MFA from the Solstice program at Pine Manor College where she was the Dennis Lehane Fellow in Fiction. To learn more about her writing, visit kimsuhr.com.