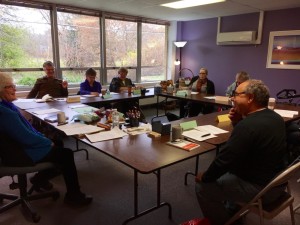 Join other writers and experts in the field to learn about topics relating to writing and marketing your work. These interactive workshops  allow you to dig deeper into your work and learn from other committed writers in a collegial setting.
In Studio
Studio workshops held on Saturday mornings from 9:30 – noon in our studio at 11709 W. Cleveland Ave, West Allis (in the education wing of Holy Trinity Church)  
Fall 2017 Schedule TBD 
Online
Using podcasts, resource links, practice exercises and discussion boards, students access materials and post on their own schedule. (No "real time" meetings.) For maximum benefit and interaction, participants will  post work weekly and respond to other students' writing as well. (4 modules, 1 per week with an additional week to view materials and responses.) 
May 1 – 31, 2017
Point of View: The Basics and Then Some
When it comes to the lens through which readers will see their story, writers have decisions to make. Third person or first? Limited or omniscient? And what about the nuances within each category? Once you have chosen who will tell your story, the fun part begins: making sure to stay true to the point of view and use it to your work's greatest advantage. This workshop will begin with an overview of POV, then look deeper into the various perspectives you have to choose from.