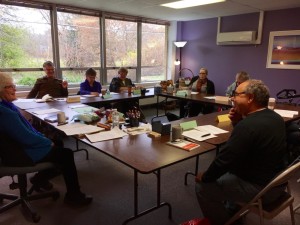 Join other writers and experts in the field to learn about topics relating to writing and marketing your work. These interactive workshops  allow you to dig deeper into your work and learn from other committed writers in a collegial setting.
Fall 2018 Schedule
Sept 21 & 22: Join us at the Wisconsin Writers Association Fall Conference in Brookfield, WI.
Celebrate 70 years of supporting Wisconsin writers with the WWA. Keynote speaker, Jerry Apps, Agent/Editor Pitch Sessions, Craft & Publishing Breakouts and more.
Oct 20:  (Extra)Ordinary Content with Patricia Ann McNair
Writing activities will combine each writer's unique material with a variety of ways of telling, structure, and form, in order to make work that resonates. Whether a writer is creating imagined new worlds or writing autobiographical pieces, prose or poetry, these explorations will feed the muse.
Nov 10: Diving into the Details with Christi Craig
Details play a significant role in our writing, whether we write poems, essays or novels. Details build story, deepen story, and provide more ways for readers to connect with story. In this workshop, we will look at all three functions of details as they apply to setting, place, and person, drawing from examples and diving into writing exercises. Writers will leave the workshop with a clearer understanding of how details may work to enhance their writing and with a list of resources for further study.
Dec 8: Story, Truth, and Beauty, Baby! with Barry Wightman
Ready to take your writing to the next level? Looking for ways to amp up your prose, streamline it, make it jump from the page? Like great music, great fiction is built from magic moments that produce shivers—riffs, choruses and solos that enchant the reader. Story, truth, and beauty, baby!
In this workshop, we'll dial into how curiosity, rhythm, sensory detail, and tone can combine to produce that magic everybody loves.
*Studio workshops held on Saturday mornings from 9:30 – noon in our studio at 11709 W. Cleveland Ave, West Allis (in the education wing of Holy Trinity Church)