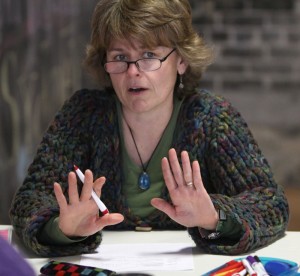 Meet one-on-one (face-to-face or via the internet) to talk with Kim about your project: brainstorm ideas for moving forward,  get another set of eyes on your structure, craft a concrete game plan, get suggestions for submission opportunities. The time is yours, so you decide how you want to use it.
Fee: $50/hour ($45/hour for current Roundtable participants)
KIM SUHR is the author of Maybe I'll Learn: Snapshots of a Novice Mom and director of Red Oak Writing. Her work has appeared at Grey Sparrow Journal, Full of Crow and Staccato Fiction as well as earning awards from the Wisconsin Writers' Association's Jade Ring and Lindemann Humor Contests. You can listen to Kim read her work at WUWM 89.7 on the Lake Effect Program. To learn more about her writing, visit kimsuhr.com. She holds an MFA from the Solstice program at Pine Manor College where she was the Dennis Lehane Fellow in Fiction.